1. Sample as many pianos as you can
There are many brands, shapes, sizes, styles that all take a while to get to know and understand. Now is the time to branch out from the piano company that you grew up playing on to try something new! Every piano has it's own very unique features that are geared towards a particular kind of pianist. It is very unlikely that the first piano you play is the best one for you. Try some pianos out slightly above and below the price-point you are looking at just to see what the differences are!
2. Look at new and used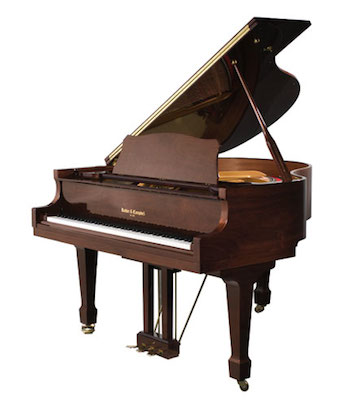 Though used pianos can be a more research intensive option, don't eliminate used pianos from your choices.
Relatively young used pianos, and professionally rebuilt pianos will often give their new counterparts a run for their money! Used pianos are often cheaper, and have already been broken in by their previous owners. If you have fallen in love with a model or brand, but find it out of your budget, look to find it used and see how you like it!
It is important to understand the history if you are considering used. A used piano sitting for decades in a dark, humid basement could be more trouble than its worth. – Via Coltharppianoworld.com
[wpob id="8″]
3. Test out every key and pedal
Before making a major decision on a piano, be sure to check every key and pedal to check the working condition. Even if you've never played piano before, most people can still hear out of tune notes, and notice when keys stick!
Don't be embarrassed to play each key at different volumes and lengths, and test the foot pedals on different octaves. Via- About.com
4. Keep in mind where your piano will reside
Will it fit? This is something best to measure rather than estimate. Making a big piano purchase only to find that it does not fit in your living room is incredibly frustrating. Measuring the width of all halls and doorways the piano must pass through to get into your home.
The size, shape, and furniture of the room a piano sits in will impact the overall sound quality of your piano. Do your homework and decide if that room could really fit the piano you are looking for.
5. Who is moving your piano?
When buying a piano from a dealer, the piano move will usually be included with the piano, and delivered by a specialty piano moving company. However, when buying from a private seller, the piano move is often up to you.
Using a piano specialized moving company will be more expensive than your average 2 men and a truck kind of operation, but it is worth the investment.
It can't be jostled and thrown into the back of a truck the way you would move a couch or a table. And try getting a grand piano up five flights of stairs; difficult for even the professionals. For the safety of the movers and the piano, its best to have it professionally moved. Coltharppianoworld.com
6. Do your homework first
This piano will be with you for many years. Pianos will last on average 40 years when properly maintained. There is no rush when buying an acoustic piano. Try as many different pianos as possible, and only make a purchasing decision once you are certain you have found the right piano for you. There are dozens of piano forums online to help you make your decision. Books like the Piano Buyers Guide also have lots of information on specific models and brands.
[wpob id="8″]
7. Restoration isn't a bad thing
If you have spare time and enjoy the challenge of buying something vintage or antique in style, buying refurbished, reconditioned or rebuilt might be a good option for you. You might find the perfect piano for your style while saving some money.
Your safest and least time-consuming option though, is to buy new or pre-owned from a certified piano dealer.
8.Tuning is a part of the process
There is no need to panic when your piano quickly goes out of tune three weeks into your new piano ownership. A piano needs to be broken in and given time to adjust to the humidity before it can reliably hold its tuning. A piano will hold it's tune stronger as the years go by while the piano settles in it's new environment.
9. Think about how long you want to use this piano.
I hear parents all the time say they want an inexpensive piano to start, with the intention of upgrading if their child sticks with it. Instead of starting with a low quality piano, think longevity instead. If you purchase a low quality, out of tune piano just for start up purposes, your child will have trouble "hearing" the sounds of the piano. It won't sound the same from your home to the instructors room, and its easy to get frustrated and abandon the practice. Quality matters, even to a beginner. – Coltharppianoworld.com
10. Trust an experienced pianist- Bring a friend with you! 
Realize however that tonal preference is very subjective and your opinion is the most important when it comes to the sound you like. Listen to low, middle, and high notes. Ask about and learn to understand what makes a certain piano more desirable than another. Keep in mind however that your "experienced pianist" is going to recommend what they like, not necessarily what you like. They may also want to steer you to a brand they already know. The brand you have heard of may not be the best choice. Your taste and your budget are the most important elements.
[wpob id="8″]